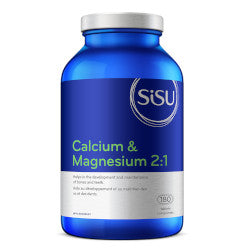 SISU Calcium & Magnesium 2:1 with D - 180 Tablets
Calcium & Magnesium 2:1 with D are high potency tablets for those wanting to supplement their needs with fewer pills. Featuring tablets that are tampered with a smooth, water-based coating and formulated to dissolve when stirred in hot water, Calcium & Magnesium 2:1 with D is ideal for those with slow digestion or prefer to not swallow tablets.
Brand: SISU
Format: Tablets
Amount: 180 Tablets
Medicinal Ingredients - Each Capsule Contains:
Calcium (calcium citrate) ..... 300 mg
Magnesium (magnesium oxide) ..... 150 mg
Vitamin D2 (ergocalciferol) ..... 5 mcg (200 IU)
Non-Medicinal Ingredients: microcrystalline cellulose, croscarmellose sodium, magnesium stearate (vegetable).
Tablet Coating: glycerin (vegetable), hypromellose, titanium dioxide.
NPN: 80008629