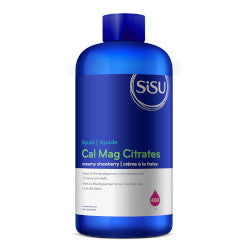 SISU Calcium & Magnesium with D Blueberry Flavour - 450 mL
SISU Calcium & Magnesium with D is a high potency formula of calcium carbonate, magnesium oxide, and vitamin D2. Calcium carbonate is a high potency form of calcium, while magnesium improves vitamin D activity and decreases the risk of developing osteoporosis. Calcium & Magnesium with D is a great tasting product that can be taken by the spoonful or added to a blender drink.
Brand: SISU
Format: Liquid
Amount: 450 mL
Flavour: Blueberry Parfait
Medicinal Ingredients - Each Two Tablespoons (30 mL) Contains:
Calcium (calcium carbonate) ..... 480 mg
Magnesium (magnesium oxide) ..... 360 mg
Vitamin D (vitamin D2)
     equivalent to 200 IU vitamin D (ergocalciferol) activity ..... 5 mcg
Non-Medicinal Ingredients: purified water, vegetable glycerin, xanthan gum, gellan gum, potassium sorbate, sodium propionate, tocopherol (natural vitamin E), maltodextrin.
NPN: 80009559