Bioflavonoids
Bioflavonoids (also called flavonoids) are naturally occurring pigments, found in plants. They exist in many forms, with a high degree of diversity. When supplemented with Vitamin C, they contribute to excellent health in humans. While there are numerous types of bioflavanoids, two well-known types (Quercetin and Rutin) are available separately on erbamin.ca. Bioflavonoid blends are available in this section of our online store.
---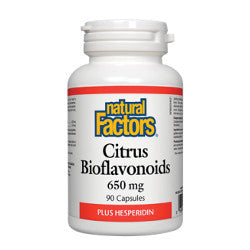 Natural Factors Citrus Bioflavonoids 650 mg - 90 Capsules
Natural Factors Citrus Bioflavonoids strengthens capillaries and regulates their permeability,...
$6.99