Beta Carotene
Beta Carotene is a precursor to Vitamin A. Taken either on its own or in combination with other carotenoids (such as lutein), it aids in maintaining good vision. It is additionally an antioxidant, meaning it protects the body from aging and disease caused by free redicals which accumulate over time.
---
Natural Factors Beta Carotene 10,000 IU - 90 Tablets
Beta Carotene is essential for many bodily processes including the maintenance of eyesight, sk...
$6.99
Sold Out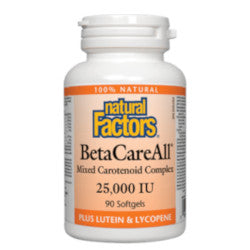 Natural Factors BetaCareAll 25,000 IU - 90 Softgels
Natural Factors BetaCareAll is a unique mixed carotenoid formula containing natural beta-carot...
$14.99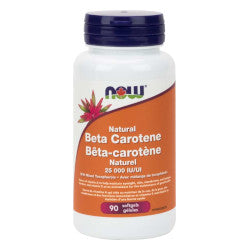 Now Natural Beta Carotene 25000 IU - 90 Softgels
Natural Beta-Carotene contains additional antioxidant carotenoids, Alpha-Carotene, Zeaxanthin,...
$19.99