Aloe Vera
Aloe Vera, taken internally, may act as a laxative and supports both healing and a healthy digestive system. It may be produced as a gel or juice. The gel is taken from the centre portion of the plant's leaf, and features soothing and healing properties. Aloe Vera juice is found under the outer skin of the leaf and contributes digestive supporting and laxative properties. Topically, the gel is used as a cool, soothing treatment to cuts and burns, in addition to promoting the healing of damaged skin.
---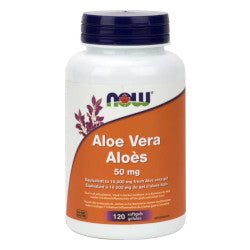 Now Aloe Vera 50 mg - 120 Softgels
Aloe Vera contains a variety of nutrients, including vitamins, minerals, enzymes and amino aci...
$17.99
Sold Out