Moringa
Moringa, also referred to as 'drumstick tree', due to its long, slender shape, is a superfood which contains high amounts of vitamins, minerals, antioxidants, and amino acids. As a result, it is an excellent dietary source of nutrition and provides sustained, lasting, energy. Additional benefits include aiding immune system function, boosting mood, preventing anemia (iron deficiency) and more. Moringa's excellent nutritional potential has led to it being used to combat malnutrition in underdeveloped regions. As a plant, its nutrient-storing capability allows for its survival in areas with poor soil and low water.
---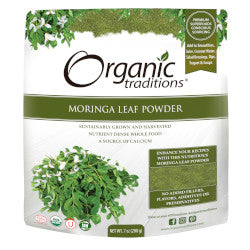 Organic Traditions Moringa Leaf Powder - 200 grams
A tropical flowering plant with many different species ranging from small shrubs to massive tr...
$17.98