Pygeum
Pygeum is a tree whose bark extract is commonly used for its health benefits. It promotes healthy prostate function, and contributes to the alleviation of Benign Prostate Hyperplasia (BPH, or enlarged prostate) symptoms such as poor urine flow.
---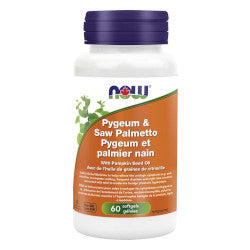 Now Pygeum & Saw Palmetto - 60 Softgels
Pygeum & Saw Palmetto is a combination of botanical extracts that promote healthy urinary ...
$23.99