Cranberry
Cranberry is a shrub, native to North America, whose fruit or berry is used medicinally. A common use of cranberry juice or extracts is for Urinary Tract Infections (UTI's). Biologically active components within cranberry serve to loosen bacterial attachment to the urinary tract, resulting in their elimination and relief from infections.
---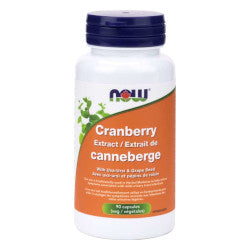 Now Cranberry Extract - 90 Vegetarian Capsules
Cranberry has become an essential component in the promotion of sound urinary tract health.
$24.99
Sold Out
Organika Cranberry Extract 300 mg - 90 Capsules
Cranberry Extract helps to prevent recurrent urinary tract infections (UTI), especially common...
$20.99
Sold Out