Black Radish
Black Radish, whose root is used medicinally, promotes digestive health through supporting liver function. It additionally supports the liver, as well as the body as a whole, in removing toxins or detoxifying.
---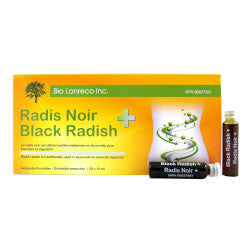 Bio Lonreco Black Radish Liquid - 20 x 10 mL
Traditionally used in Ayurveda to promote digestion and featuring the inclusion of artichoke, ...
$36.99