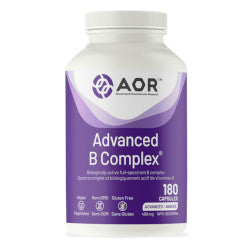 AOR Advanced B Complex 499 mg - 180 Capsules
AOR offers the most potent B complex available on the market. One of the significant differences between AOR's Advanced B Complex and other formulas is that the B vitamins are in the optimal dosages in order for them to have a potent effect in the body. Each of the B vitamins is in its co-enzyme form making it accessible for the body to use immediately.
Get free Canada Post Expedited Parcel shipping anywhere in Canada when you purchase this product at Erbamin.
Brand: Advanced Orthomolecular Research (AOR)
Format: Capsules
Amount: 180 Capsules
Medicinal Ingredients - Each Three Capsules Contain:
B1 thiamine (benfotiamine) ..... 100 mg
B2 (riboflavin-5-phosphate sodium) ..... 7.5 mg
B3 (niacin - from 388 mg inositol hexanicotinate) ..... 353 mg
B5 (panthethine, calcium D-pantothenate) ..... 300 mg
B6 (Pyridoxal-5'-phosphate) ..... 100 mg
B12 (methylcobalamin) ..... 1000 mcg
Folic acid (calcium L-5-MTHF) ..... 1000 mcg
Biotin ..... 500 mcg
Choline bitartrate (provides 240 mg of choline) ..... 600 mg
Inositol (from inositol hexanicotinate, inositol) ..... 393 mg*
*85 mg from inositol hexanicotinate, 308 mg from inositol
Non-Medicinal Ingredients*: Microcrystalline cellulose, dicalcium phosphate, silicon dioxide, sodium stearyl fumarate, ethylcellulose, dibutyl sebacate, mannitol (corn) Capsule: hypromellose and chlorophyll
NMI's are subject to change. Always read and follow the label for accurate ingredient and allergen information.
NPN: 80025646