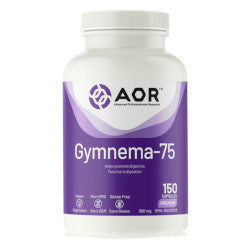 AOR Gymnema-75 300 mg - 150 Capsules
AOR Gymnema-75, standardized for gymnemic acids, is an Ayurvedic herb that helps in the management of blood sugars and reducing the risk of cardiovascular disease.
Brand: Advanced Orthomolecular Research (AOR)
Format: Capsules
Amount: 150 Capsules
Medicinal Ingredients - Each Capsule Contains:
Gymnema sylvestre (leaf extract) ..... 300 mg*
*Contains 225 mg gymnemic acids
Note: Herbal extracts will naturally vary in colour from one batch to another.
Non-Medicinal Ingredients*: Sodium benzoate Capsule: Hypromellose
*NMI's are subject to change. Always read and follow the label for accurate ingredient and allergen information.

NPN: 80038509