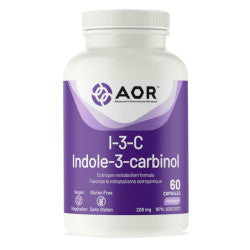 AOR I-3-C 200 mg - 60 Capsules
Indole-3-Carbinol, a phytonutrient found in broccoli, reduces the formation of harmful estrogens within the body.
Brand: Advanced Orthomolecular Research (AOR)
Format: Capsules
Amount: 60 Capsules
Medicinal Ingredients - Each Capsule Contains:
Indole-3-Carbinole (I3C) ..... 200 mg
Non-Medicinal Ingredients*: Microcrytalline cellulose Capsule: Hypromellose
*NMI's are subject to change. Always read and follow the label for accurate ingredient and allergen information.
NPN: 80023077