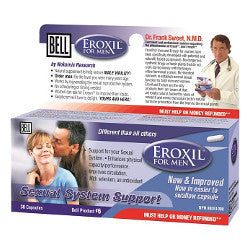 Bell Eroxil Virility for Men 557 mg - 30 Capsules
Eroxil revitalizes the male reproductive system, promoting a healthy, strong libido while optimizing sperm production and motility. Supporting peripheral circulation in addition to an ideal level of sexual stamina and performance, Eroxil features the strong herbal combination of Tribulus terrestris, Panax ginseng, and Ginkgo biloba.
Brand: Bell Lifestyle
Format: Capsules
Amount: 30 Capsules
Active Ingredients - Each Capsule Contains: Tribulus terrestris extract 20:1 (95% saponins) (fruit) 250 mg, Panax ginseng extract 20:1 (7% ginsenosides) (whole plant) 200 mg, Ginkgo biloba extract 50:1 (24% flavonoid glycosides, 6% terpene lactones) (leaf) 100 mg, Spermidine 2.5 mg, Spermine 2.5mg, Selenium 100 mcg.