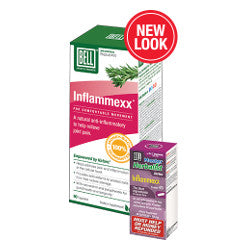 Bell Inflammexx 725 mg - 90 Capsules
Bell Inflammexx stops pain and inflammation at the cellular level by switching off the master pain switch molecule, NF-Kb. Featuring nine proven natural pain killers - rosemary, turmeric, ginger, resveratrol (from Japanese knotweed), boswellia, holy basil, rutin, Chinese goldthread and Chinese skullkap - Inflammexx works using multiple pathways to keep you feeling comfortable, energized, and mobile.
Brand: Bell Lifestyle
Format: Capsules
Amount: 90 Capsules
Ingredients: Holy basil extract 10:1 (Ocimum tenuiflorum) (leaf) 100 mg, Rosemary extract (Rosmarinus officinalis) (leaf) (24% phenols) 100 mg, Grape seed extract (Vitus vinifera) (seed) (50% polyphenols) 90 mg, Ginger extract (Zingiber officinale) (root) (18% gingerols) 80 mg, Japanese knotweed extract (Polygonum cuspidatum) (root) (8% resveratrol) 80 mg, Indian frankincense extract 10:1 (Boswellia serrata) (oleo gum resin) 60 mg, Hops extract 10:1 (Humulus lupulus) (stobile/flower) 50 mg, Turmeric extract (Curcuma longa) (root) (95% curcuminoids) 50 mg, Chinese goldthread extract (Coptis chinensis) (rhizome) (6% berberine) 40 mg, Rutin (from sophora japonica) (bud) 40 mg, Chinese skullcap extract (Scutellaria baicalensis) (root) (30% baicalin) 35 mg.