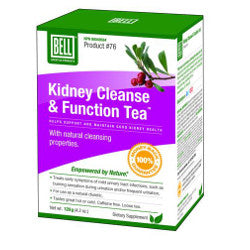 Bell Kidney Cleanse & Function Tea - 120 grams
Kidney Cleanse & Function Tea, featuring herbs including Bermuda grass, uva ursi, lavender, stinging nettle, parsley, astragalus, and marshmallow, is a special herbal formulation designed to support kidney health. Kidney Cleanse & Function has natural cleansing properties and helps treat early symptoms of mild urinary tract infections such as burning sensation during urination and/or frequent urination.
Brand: Bell Lifestyle
Format: Loose Tea
Amount: 120 grams
Ingredients: Bermuda grass (Cynodon dactylon) (root) 712 mg, Uva-ursi (Arctostaphylos uva-ursi) (leaf) 626 mg, English lavender (Lavandula angustifolia) (flower) 569 mg, Stinging nettle (Urtica dioica) (leaf) 588 mg, Parsley (Petroselinum crispum) (herb) 569 mg, Astragalus (Astragalus membranaceus) (root) 468 mg, Marshmallow (Althaea officinalis) (root) 468 mg.