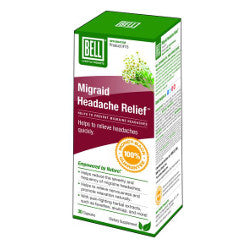 Bell Migraid Headache Relief 680 mg - 30 Capsules
Bell Migraid is formulated to help put a stop to migraine headaches, ease current headaches, and reduce the severity and frequency of migraine headaches and associated symptoms, such as nausea and vomiting. Feverfew is the primary ingredient for alleviating headaches, but skullcap, purple butterbur, and magnesium are also important constituents that help soothe headaches.
Brand: Bell Lifestyle
Format: Capsules
Amount: 30 Capsules
Ingredients - Each Capsule Contains: Feverfew extract (Tanacetum parthenium) (herb) 200 mg, Skullcap extract (Scutellaria lateriflora) (herb) 160 mg, Purple butterbur extract (Petasites hybridus) (root) 90 mg, Peppermint extract (Mentha piperita) (leaf) 70 mg, Magnesium (as magnesium citrate) 26 mg.