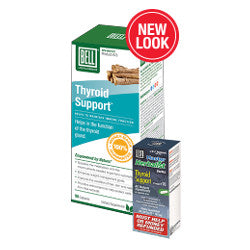 Bell Thyroid Support 762 mg - 90 Capsules
Bell Thyroid Support, an immunostimulatory formulation rich in antioxidants, has been formulated to help in the function of the thyroid gland and helps protect the thyroid. Thyroid Support also helps the body to metabolize carbohydrates, proteins, and fats more effectively, contributing to weight loss or management regimens.
Brand: Bell Lifestyle
Format: Capsules
Amount: 90 Capsules
Ingredients: Bladderwrack extract 10:1 (Fucus vesiculosis) (whole) 200 mg, L-Tyrosine 200 mg, Ashwagandha extract 12:1 (Withania somnifera) (root) (1.5% withanolides) 100 mg, Forskohlii extract (Plectranthus barbatus) (root) (20% forskolin) 100 mg, Guggul extract (Commiphora wightii) (resin) (2.5% guggulsterones) 100 mg, Zinc (as zinc picolinate) 10 mg, Copper (as copper gluconate) 500 mcg, Iodine (as potassium iodide) 100 mcg, Selenium 50 mcg.