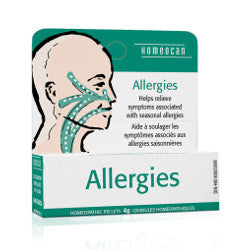 Homeocan Allergies Pellets - 4 grams
Allergies pellets is a homeopathic medicine that helps relieve symptoms associated with allergies: Runny nose, sneezing, nasal congestion, throat irritation, and watery eye.
Brand: Homeocan
Type: Pellets
Amount: 4 grams
Medicinal Ingredients: Allium cepa 6X, Arsenicum album 8X, Nux vomica 6X, Euphrasia oficinalis 6X, Sabadilla 6X, Sticta pulmonaria 6X, Aralia racemosa 6X, Cuprum metallicum 8X.
Non-Medicinal Ingredients: Lactose, saccharose.
DIN-HM: 80003098