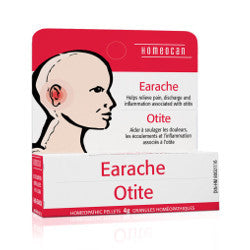 Homeocan Earache Pellets - 4 grams
Earache pellets are a homeopathic medicine that helps relieve pain, discharge, and inflammation associated with otitis.
Brand: Homeocan
Type: Pellets
Amount: 4 grams
Medicinal Ingredients: Ferrum phosphoricum 30K, Aurum metallicum 30K, Capsicum annuum 30K, Thuja occidentalis 30K, Silicea 6K, Mercurius vivus 6K, Kalium sulphuricum 6K, Pyrogenium 30K.
Non-Medicinal Ingredients: Lactose, saccharose.
DIN-HM: 80021116