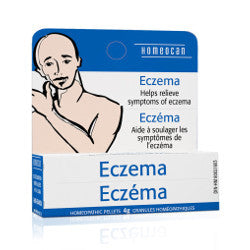 Homeocan Eczema Pellets - 4 grams
Eczema Pellets are homeopathic medicine used to help relieve symptoms of eczema such as cracked skin, itching, or dryness.
Brand: Homeocan
Type: Pellets
Amount: 4 grams
Medicinal Ingredients:Fumaria officinalis 3K, Natrum muriaticum 6K, Agaricus muscarius
6K, Petroleum 6K, Sepia 6K, Kali arsenicosum 6K, Alumina 6K.
Non-Medicinal Ingredients: Lactose, saccharose.
DIN-HM: 80021603