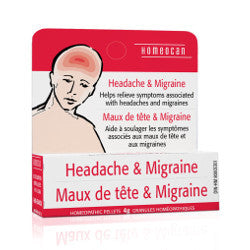 Homeocan Headache and Migraine Pellets - 4 grams
Headache and Migraine pellets are a homeopathic solution that help relieve symptoms of headaches and migraines.
Brand: Homeocan
Type: Pellets
Amount: 4 grams
Medicinal Ingredients: Cyclamen europaeum 4X, Antimonium crudum 9X, Alumina 9X, Lycopodium clavatum 5X, Argentum nitricum 9X, Digitalis purpurea 9X, Melilotus oficinalis 4X, Glonoinum 6X.
Non-Medicinal Ingredients: Lactose, saccharose.
DIN-HM: 80003301