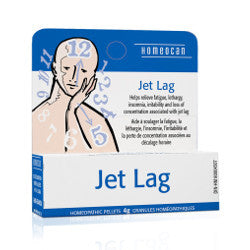 Homeocan Jet Lag Pellets - 4 grams
Jet Lag is used to relieve fatigue, lethargy, insomnia, irritability, and loss of concentration associated with jet lag.
Brand: Homeocan
Type: Pellets
Amount: 4 grams
Medicinal Ingredients: Arnica montana 10X & 30X, Bellis perennis 10X & 30X, Chamomilla 10X & 30X, Ipecacuanha 10X & 30X, Lycopodium clavatum 10X & 30X.
Non-Medicinal Ingredients: Lactose, saccharose.
DIN-HM: 80004507