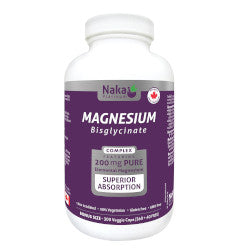 Naka Platinum Magnesium Bisglycinate 200 mg - 300 Capsules
Magnesium bisglycinate enables faster, more efficient absorption and more usable magnesium for your body's needs. Magnesium helps to maintain proper muscle function, in the development and maintenance of bones and teeth, and in the metabolism of carbohydrates, fats, and proteins.
Brand: Naka Platinum
Format: Vegetarian Capsules
Amount: 300 Capsules
Medicinal Ingredients - Each Vegetarian Capsule Contains:
Elemental Magnesium (from Magnesium Bisglycinate 76%=727 mg
     and Magnesium Oxide 24%=227 mg) ..... 200 mg
Non-Medicinal Ingredients: Magnesium Stearate (vegetable source), hypromellose (capsule ingredient). Contains no added gluten, starch, corn, wheat, soy, nuts, dairy, eggs, fish or shellfish, yeast, or animal products.
NPN: 80034025