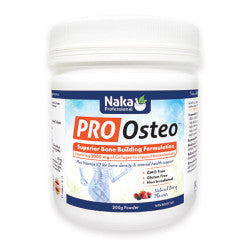 Naka Pro Osteo Powder - 200 grams
Pro Osteo powder, in a natural berry flavour, features 2000 mg of collagen plus calcium, magnesium, vitamin K, and other nutrients to support bone density and arterial health.
Brand: Naka Pro
Format: Powder
Flavour: Natural Berry
Amount: 200 grams
Medicinal Ingredients - Each Scoop (9.2 grams) Contains:
Calcium (Calcium citrate) ..... 750 mg
Magnesium (magnesium citrate) ..... 300 mg
Hydrolyzed Collagen
     (From BSE Free Bovine Source, Halal Certified) ..... 2000 mg
Boron (Boron citrate) ..... 700 mcg
Zinc (Zinc citrate) ..... 10 mg
Silicon (Silicon dioxide) ..... 50 mg
Vitamin D3 (Cholecalciferol) (1000 IU) ..... 25 mcg
Vitamin K2 (Menaquinone 7) ..... 25 mcg
Non-Medicinal Ingredients: Citric acid, Xylitol, Natural Mix Berry Flavour, Stevia rebaudiana leaf. Contains no added gluten, nuts, eggs, dairy products, fish or shell fish, soy, corn, wheat, or yeast.
NPN: 80057160