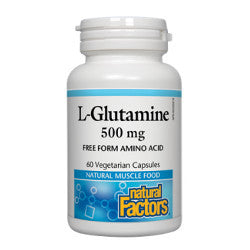 Natural Factors L-Glutamine 500 mg - 60 Capsules
Natural Factors L-Glutamine enhances muscle recovery, energy, and immunity. Supplementing with L-glutamine helps restore levels lost during strenuous exercise and speed up recovery.
Brand: Natural Factors
Format: Capsules
Amount: 60 Capsules
Medicinal Ingredients - Each Capsule Contains:
L-Glutamine (free form) ..... 500 mg
Non-Medicinal Ingredients: Rice starch, gelatin capsule (gelatin, purified water), vegetable grade magnesium stearate (lubricant).
NPN: 80005919