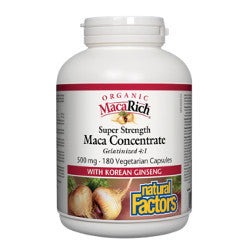 Natural Factors Organic MacaRich 500 mg - 90 Capsules
Natural Factors Organic MacaRich concentrate with Korean Ginseng boosts energy, improves performance, and reduces physical and mental stress. It also supports immune health and improves hormonal balance and libido.
Brand: Natural Factors
Format: Vegetarian Capsules
Amount: 90 Capsules
Medicinal Ingredients - Each Capsule Contains:
Organic MacaRich® Maca Powder Concentrate 4:1
     (Lepidium meyenii) (root) ..... 500 mg
Korean Ginseng Powder (Panax ginseng) (root) ..... 200 mg
Non-Medicinal Ingredients: Vegetarian capsule (carbohydrate gum [cellulose], purified water, silica), microcrystalline cellulose, vegetable grade magnesium stearate (lubricant), silica.
NPN: 80025133