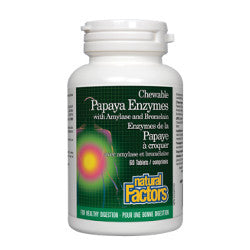 Natural Factors Papaya Enzymes - 120 Chewable Tablets
Natural Factors Chewable Papaya Enzymes with Amylase and Bromelain are naturally flavoured and help the body in breaking down proteins, fats, and carbohydrates, while improving nutrient absorption.
Brand: Natural Factors
Format: Tablets
Amount: 120 Tablets
Medicinal Ingredients - Each Tablet Contains:
Papain (Carica papaya) (fruit) ..... 300,000 USP
Amylase (Aspergillus oryzae) (whole plant) ..... 500 SKBU
Bromelain (Ananas comosus) (stem) ..... 32,000 PU
USP (U.S. Pharmacopeia), PU (Food Chemical Codex Papain Unit), SKBU (Sansted, Kneen, Blish Alpha Amylase Unit).
Non-Medicinal Ingredients: Dextrose, fructose, natural orange colour (annatto), amla, citric acid, papaya flavour, vegetable grade magnesium stearate (lubricant).
NPN: 02246150