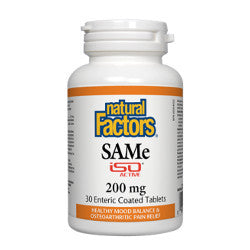 Natural Factors SAMe 200 mg - 30 Tablets
SAMe (pronounced "sammy") is a natural molecule formed in the body. Supplemental SAMe helps to raise serotonin, dopamine, and phosphatidylserine levels, without the side effects of prescription anti-depressants.
Brand: Natural Factors
Format: Enteric-Coated Tablets
Amount: 30 Tablets
Medicinal Ingredients - Each Enteric Coated Tablet Contains:
S-Adenosyl-L-Methionine (SAMe) ..... 200 mg
(from 400 mg of S-Adenosyl-L-Methionine Disulfate Tosylate)
Non-Medicinal Ingredients: Microcrystalline cellulose, mannitol, enteric coating (methacrylic acid copolymer, talc, triethyl citrate, glyceryl palmitostearate, silica, titanium dioxide, medium chain triglycerides, yellow iron oxide), glyceryl behenate, vegetable grade magnesium stearate (lubricant), silica, sodium starch glycolate.
NPN: 80004055