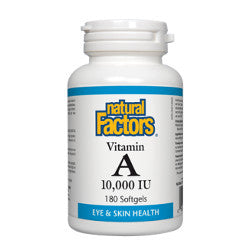 Natural Factors Vitamin A 10,000 IU - 180 Softgels
Vitamin A helps maintain eyesight, skin, mucous membrane health, and immune function. It is also beneficial in the development and maintenance of night vision, bones, and teeth.
Brand: Natural Factors
Format: Softgel Capsules
Amount: 180 Softgels
Medicinal Ingredients - Each Softgel Capsule Contains:
Vitamin A* (palmitate) ... 3000 mcg RAE (10,000 IU)
* From cod liver oil
Non-Medicinal Ingredients: Softgel (gelatin, glycerin, purified water), soybean oil, vitamin E.
NPN: 00619086