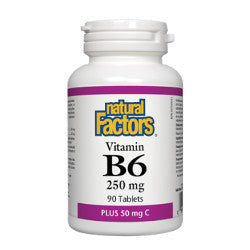 Natural Factors Vitamin B6 250 mg with C - 90 Tablets
Natural Factors Vitamin B6 plus C helps in the development and maintenance of bones, cartilage, teeth, and gums. It helps the body metabolize fats, proteins, and carbohydrates.
Brand: Natural Factors
Format: Tablets
Amount: 90 Tablets
Medicinal Ingredients - Each Tablet Contains:
Vitamin B6 (Pyridoxine Hydrochloride) ..... 250 mg
Vitamin C (Ascorbic Acid) ..... 50 mg
Non-Medicinal Ingredients: Microcrystalline cellulose, vegetable grade magnesium stearate (lubricant).
NPN: 00700541