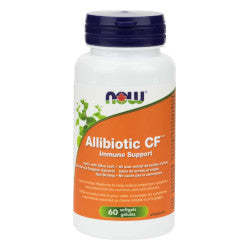 Now AlliBiotic Non-Drowsy CF - 60 Softgels
Now AlliBiotic CF™ is an herbal combination formulated for the support of a healthy immune system. This botanical formula has Garlic Extract, which has been used for centuries to promote overall wellness. Also included is Elderberry, Olive Leaf Extract and Oregano Oil to complete this comprehensive formula.
Brand: Now Foods
Type: Softgels
Amount: 60 Softgels
Medicinal Ingredients - Each Softgel Contains:
Olive Leaf Extract (Olea europaea) (18% oleuropein) ..... 40 mg
Garlic (Allium sativum, bulb) ..... 40 mg
Oregano Oil (Origanum vulgare) (containing 55% Carvacrol) ..... 40 mg
Arabinogalactan (Larix Spp.) (ImmunEnhancer™) ..... 10 mg
Elderberry Extract (Sambucus nigra) ..... 50 mg
     (50:1 extract; equivalent to 2500 mg)
Non-Medicinal Ingredients: Rice bran oil, softgel (gelatin, glycerin, water, carob powder), enteric coating (talc, water, polyethylene glycol, methacrylic acid coplymer), yellow beeswax, soy lecithin, and rosemary oil.
NPN: 80041978