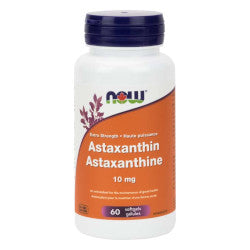 Now Astaxanthin 10 mg - 60 Softgels
Astaxanthin freely crosses the blood-brain and blood-retina barriers, and can neutralize free radicals in the eye and central nervous system. Scientific studies also demonstrate that Astaxanthin can support the body's healthy and balanced immune system responses.
Brand: Now Foods
Type: Vegetarian Softgels
Amount: 60 Softgels
Medicinal Ingredients - Each Softgel Contains:
Microalgae Extract (Haematococcus pluvialis) ..... 110 mg
     (Equivalent to 220-660 mg of H. pluvialis (Whole Organism))
Providing:
Astaxanthin ..... 10 mg
Vitamin E ..... 6.7 mg ATE
     (10 IU as d-alpha tocopherol, from Glycine max. (Soybean))
Non-Medicinal Ingredients: Organic Extra Virgin Olive Oil, Softgel Capsule (gelatin, water, glycerin).
NPN: 80033538