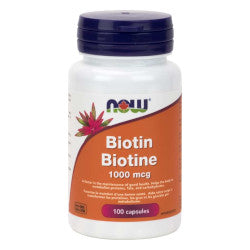 Now Biotin 1000 mcg - 100 Capsules
Biotin is a water-soluble vitamin necessary for normal growth and body function. Alongside its role in energy production, Biotin enhances the synthesis of certain proteins. In addition, biotin promotes normal immunity and plays a critical role in skin health.
Brand: Now Foods
Format: Capsules
Amount: 100 Capsules
Medicinal Ingredients - Each Capsule Contains:
Biotin ..... 1000 mcg
Non-Medicinal Ingredients:  Rice flour, capsule (gelatin, water), ascorbyl palmitate and silica.