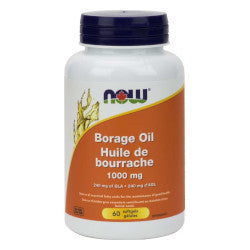 Now Borage Oil 1000 mg - 120 Softgels
Borage Oil is a nutritional oil containing over 80% Polyunsaturated Fats. Linoleic Acid and Gamma Linoleic Acid (GLA) are enhanced essential fatty acids. Although the body can manufacture GLA from dietary linoleic acid, it can be more efficiently utilized for body functions when supplied directly by dietary sources.
Brand: Now Foods
Type: Softgels
Amount: 120 Softgels
Medicinal Ingredients - Each Softgel Contains:
Borage Seed Oil (Borago officinalis) ..... 1000 mg
     Providing:
     Gamma Linolenic Acid (GLA) ..... 240 mg
Non-Medicinal Ingredients: Softgel (gelatin, glycerin, water).
NPN: 80005412