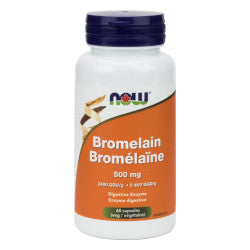 Now Bromelain 500 mg - 60 Capsules
When taken with food, Bromelain can help to support healthy digestion. When taken between meals, it may help to support joint comfort and may help to relieve temporary soreness that is associated with muscle overuse. Bromelain is designed by nature to support proper gastrointestinal function and may also help to promote the comfort of muscles and joints.
Brand: Now Foods
Format: Vegetarian Capsules
Amount: 60 Capsules
Medicinal Ingredients - Each Capsule Contains:
Bromelain (Ananas comosus) (2400 GDU*/g) (1.8 x 107 FCC PU) ..... 500 mg
*GDU (Gelatin Digesting Units) is a measure of proteolytic (protein digesting) activity.
Non-Medicinal Ingredients: Veg capsule (hypromellose, water), rice flour, magnesium stearate (vegetable source) silica.
NPN: 80043457