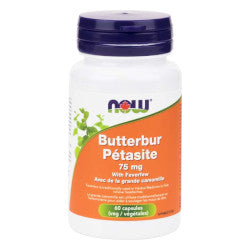 Now Butterbur 75 mg - 60 Vegetarian Capsules
European herbalists have been using Butterbur for decades and scientific studies have demonstrated that Petasins, the active constituents in Butterbur, can support healthy blood flow to the brain and promote normal neurological function.
Brand: Now Foods
Type: Vegetarian Capsules
Amount: 60 Capsules
Medicinal Ingredients - Each Capsule Contains:
Butterbur (Petasites hybridus Root) ..... 75 mg
     (Standardized to a min. 12% Sesquiterpines as Petasines)
Feverfew (Tanacetum parthenium Herb) ..... 200 mg
Non-Medicinal Ingredients: Veg capsule (hypromellose, water), cellulose, magnesium stearate (vegetable source), silica, and stearic acid.
NPN: 80015136