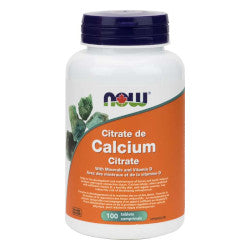 Now Calcium Citrate with Minerals & D - 100 Tablets
Calcium Citrate is a readily digested and absorbed form of Calcium. The trace minerals and Vitamin D are added because of their essential role in bone metabolism.
Brand: Now Foods
Type: Tablets
Amount: 100 Tablets
Medicinal Ingredients - Each Tablet Contains:
Calcium (from Calcium Citrate) ..... 300 mg
Magnesium (from Magnesium Oxide & Magnesium Aspartate) ..... 150 mg
Vitamin D (from Ergocalciferol) ..... 200 IU (5 mcg)
Zinc (from Zinc *HVP chelate) ..... 7.5 mg
Copper (from Copper *HVP chelate) ..... 0.5 mg
Manganese (from Manganese  *HVP chelate) ..... 2.5 mg
*HVP = Hydrolyzed Vegetable Protein
Non-Medicinal Ingredients: Hyprolose, tablet coating (hypromellose, calcium carbonate, glycerin), croscarmellose.
NPN: 80022787