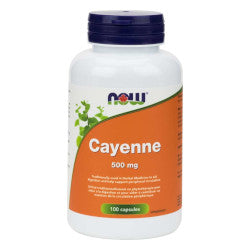 Now Cayenne Pepper 500 mg - 100 Capsules
Cayenne Pepper (Capsicum frutescens) features a hot and spicy taste which is primarily due to a component known as capsaicin. Consumption of Cayenne may help to support cardiovascular and digestive functions.
Brand: Now Foods
Type: Capsules
Amount: 100 Capsules
Medicinal Ingredients - Each Capsule Contains:
Cayenne (Capsicum annuum) (Fruit) ..... 500 mg
Non-Medicinal Ingredients: Veg capsule (hypromellose, water).
NPN: 80009311