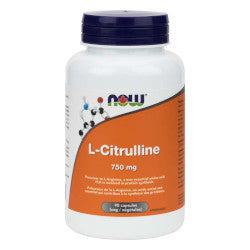 Now L-Citrulline 750 mg - 90 Capsules
Now Citrulline is a vegetarian product which promotes a healthy protein balance. Citrulline also plays an important role in the healing process and in the maintenance of a healthy immune system.
Brand: Now Foods
Format: Vegetarian Capsules
Amount: 90 Capsules
Medicinal Ingredients - Each Capsule Contains:
L-Citrulline ..... 750 mg
Non-Medicinal Ingredients: Veg capsule (hypromellose, water), calcium carbonate, magnesium oxide and magnesium stearate (vegetable source).
NPN: 80046567