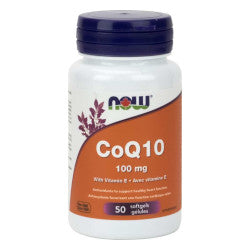 Now CoQ10 100 mg - 50 Softgels
Coenzyme Q10 is an essential component of cells and is necessary for mitochondrial energy production. Years of research has shown that CoQ10 supports healthy cardiovascular and immune system functions in addition to its vital role in energy production.
Brand: Now Foods
Format: Softgel Capsules
Amount: 50 Softgels
Medicinal Ingredients - Each Softgel Contains:
Coenzyme Q10 (Ubidecarenone) ..... 100 mg
Vitamin E (as d-alpha Tocopherol) (Sunflower Oil) ..... 30 IU (20.1 mg)
Non-Medicinal Ingredients: Softgel capsule (gelatin, water, glycerin, organic caramel), organic extra virgin olive oil, sunflower lecithin, silica.
NPN: 80004842