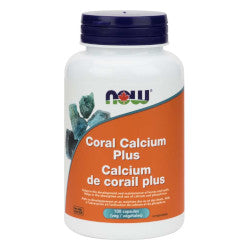 Now Coral Calcium Plus Magnesium & D - 100 Capsules
Coral Calcium has a number of naturally occurring trace minerals that are important for bone health, as well as for optimal enzymatic activity. Now Coral Calcium is not harvested from living coral reefs or even from the ocean environment, but from above-ground sources in an ecologically friendly manner.
Brand: Now Foods
Format: Vegetarian Capsules
Amount: 100 Capsules
Medicinal Ingredients - Each Capsule Contains:
Vitamin D2 (as Ergocalciferol) ..... 200 IU (5 mcg)
Calcium (from 715 mg Fossilized Coral Calcium) ..... 250 mg
Magnesium (from Magnesium Oxide, Citrate and Aspartate) ..... 125 mg
Non-Medicinal Ingredients: Veg capsule (hypromellose, water), silica, magnesium stearate (vegetable source), maltodextrin and mixed tocopherols (from soy).
NPN: 80005688