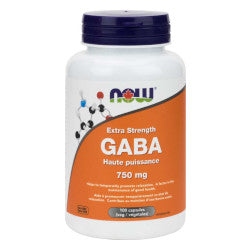 Now GABA 750 mg - 100 Vegetarian Capsules
GABA is known as the brain's own calming agent and is naturally produced in the body. By supporting a naturally balanced level of brain stimulation, GABA's presence within the central nervous system may help promote relaxation and ease nervous tension.
Brand: Now Foods
Format: Vegetarian Capsules
Amount: 100 Capsules
Medicinal Ingredients - Each Capsule Contains:
GABA (Gamma-Aminobutyric Acid) ..... 750 mg
Non-Medicinal Ingredients: Veg capsule (hypromellose, water), silica and magnesium stearate (vegetable source).
NPN: 80041987