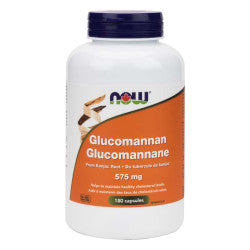 Now Glucomannan 575 mg - 180 Capsules
Glucomannan is a soluble, bulk-forming fiber derived from the konjac root (Amorphophallus konjac). Because Glucomannan helps to promote satiety (feeling of fullness), it can be an effective addition to a weight management plan that includes a healthy diet and exercise program.
Brand: Now Foods
Format: Capsules
Amount: 180 Capsules
Medicinal Ingredients - Each Capsule Contains:
Glucomannon (from Konjac Root (Amorphophallus konjac, K. Koch) ..... 575 mg
Non-Medicinal Ingredients: Capsule (gelatin, water), hypromellose, silica, cellulose, magnesium stearate (vegetable source).
NPN: 80017639