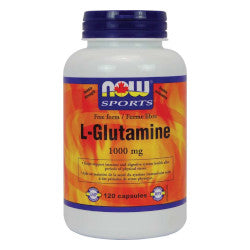 Now L-Glutamine 1000 mg - 120 Capsules
A growing body of evidence suggests that during certain stressful times, the body may require more glutamine than it can produce. Under these circumstances Glutamine may be considered a "conditionally essential" amino acid.
Brand: Now Foods
Format: Capsules
Amount: 120 Capsules
Medicinal Ingredients - Each Capsule Contains:
L-Glutamine ..... 1000 mg
Non-Medicinal Ingredients: Capsule (gelatin, water), cellulose, stearic acid (vegetable source), silica.
NPN: 80004680