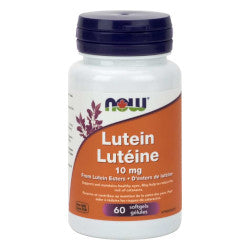 Now Lutein 10 mg - 60 Softgels
Lutein is an orange-red carotenoid pigment produced by plants and is present in the diet in colorful fruits and vegetables. In the body, Lutein is one of the predominant pigments concentrated in the macula, a specialized area of the eye that is responsible for central vision.
Brand: Now Foods
Format: Softgels
Amount: 60 Softgels
Medicinal Ingredients - Each Softgel Contains:
Lutein (free lutein) ..... 10 mg
     from lutein esters (marigold flower Tagetes erecta) ..... 116 mg
Non-Medicinal Ingredients: Softgel (gelatin, water, glycerin, organic caramel), organic extra virgin olive oil and silica.
NPN: 80060901