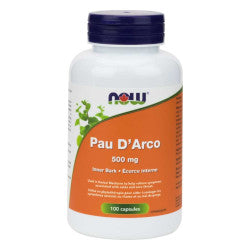 Now Pau D'Arco 500 mg - 100 Capsules
Pau D'Arco is derived from the inner bark of Tabebuia trees native to both Central and South America. Naturally rich in quinones such as napthaquinones, naphthofurandiones, and anthroquinones, Pau D'Arco has been consumed historically to help promote wellness on a number of levels.
Brand: Now Foods
Format: Capsules
Amount: 100 Capsules
Medicinal Ingredients - Each Capsule Contains:
Pau d'Arco (Lapacho) (Tabebuia heptaphylla inner bark) ..... 500 mg
Non-Medicinal Ingredients: Veg capsule (hypromellose, water) and stearic acid (vegetable source).
NPN: 80048789