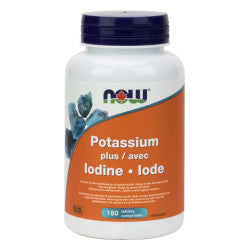 Now Potassium plus Iodine - 180 Tablets
Potassium Iodide (KI) is a compound that contains Iodine, a nutrient necessary for normal thyroid function. Iodine in the form of Iodide is an integral part of thyroid hormones, which regulate cellular metabolism and energy production.  Now Potassium Iodide Plus also supplies Potassium, a mineral that is essential for the maintenance of healthy water balance and whole body pH.
Brand: Now Foods
Format: Tablets
Amount: 180 Tablets
Medicinal Ingredients - Each Tablet Contains:
Iodine (potassium iodide) ..... 225 mcg
Non-Medicinal Ingredients: Cellulose, potassium chloride, sodium alginate, croscarmellose sodium, stearic acid (vegetable source), silica, and magnesium stearate (vegetable source).
NPN: 80026216