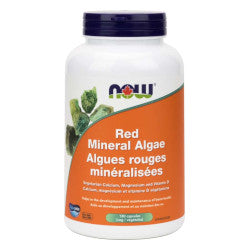 Now Red Mineral Algae - 180 Capsules
Aquamin is a blend of mineral derived from red algae harvested off the coasts of Ireland and Iceland. Aquamin is an abundant vegetarian source of bioavailable Calcium and Magnesium and has over 70 other important trace minerals. A vegetarian-sourced Vitamin D is added to this formula to further support bone health.
Brand: Now Foods
Format: Vegetable Capsules
Amount: 180 Capsules
Medicinal Ingredients - Each Capsule Contains:
Aquamin® TG (as Mineralized Red Algae) ..... 800 mg
     (Lithothamnium corallioides/ L. calcareum) (Whole Plant)
     Providing
      Calcium ..... 250 mg
      Magnesium ..... 20 mg
     Vitamin D (as Ergocalciferol) ..... 250 IU (6.25 mcg)
Non-Medicinal Ingredients: Veg capsule (hypromellose, water), stearic acid (vegetable source), magnesium stearate (vegetable source), and silica.
NPN: 80025289