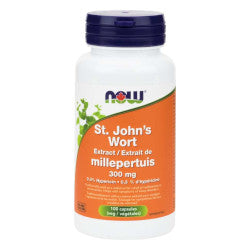 Now St John's Wort 300 mg - 100 Vegetarian Capsules
St John's Wort has a long history of traditional use by herbalists dating back more than 2000 years. Now St John's Wort features 300 mg Hypericum perforatum per capsule.
Brand: Now Foods
Format: Vegetarian Capsules
Amount: 100 Capsules

Medicinal Ingredients - Each Capsule Contains:
St. John's Wort (Hypericum perforatum) ..... 300 mg
     (aerial part with flowers) (standardized to contain 0.3% hypericin)
Non-Medicinal Ingredients: Veg capsule (hypromellose, water), rice flour, silica, magnesium stearate (vegetable source).
NPN: 80001963