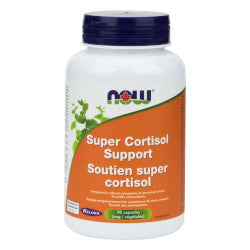 Now Super Cortisol Support with Relora - 90 Capsules
Now Super Cortisol Support is an herbal and nutritional formula designed to support healthy adrenal function and maintain healthy cortisol levels. Super Cortisol Support combines adaptogenic herbs with Chromium, Corosolic Acid and Relora to help the body manage the negative effects of stress.
Brand: Now Foods
Format: Vegetarian Capsules
Amount: 90 Capsules
Medicinal Ingredients - Each Capsule Contains:
Relora ..... 200 mg
     (A proprietary blend of plant extracts Magnolia officinalis &
     Phellodendron amurense standardized to 8.5% Honokiol & 2.5% Berberine)
Green Tea Extract (Camellia sinensis) (Leaf) ..... 90 mg
     (Standardized to 50% EGCG & 1% Caffeine)
Lecithin (from Soya Oil) ..... 50 mg
Vitamin C (as Calcium Ascorbate) ..... 33 mg
Rhodiola Extract (Rhodiola rosea) (Root) ..... 20 mg
     (Standardized to % Rosavins & 1% Salidrosides)
Ashwagandha Extract (Withania somnifera) (Root) ..... 20 mg
     (Standardized to 4.5% withanolides)
Holy Basil Extract (Ocimum tenuiflorum) (Leaf) ..... 20 mg
     (Standardized to 2% Ursolic Acid)
Banaba Extract (Lagerstroemia speciosa) (Leaf) ..... 4 mg
     (Standardized to 1% Corosolic Acid)
Reishi (Ganoderma lucidum) Mushroom Powder ..... 20 mg
Vitamin B5 (as Calcium Pantothenate) ..... 10 mg
Calcium (from Calcium Carbonate & Ascorbate) ..... 12 mg
Magnesium (as Magnesium Oxide) ..... 8 mg
Chromium (as Chromium Amino Acid Chelate) (Chelavite) ..... 20 mcg
Non-Medicinal Ingredients: Veg capsule (hypromellose, water), magnesium stearate (vegetable source), silica.

NPN: 80051774